PICTURES
RESULTS
ACCESS
COMING FROM FRANCE
A31 direction Luxembourg
A13 direction Saarbrücken
Exit Nr 12 Mondorf-les-Bains
follow N16 to Mondorf-les-Bains

COMING FROM BELGIUM
A6 direction Luxembourg
A3 direction Metz
A13 direction Saarbrücken
Exit Nr 12 Mondorf-les-Bains
follow N16 to Mondorf-les-Bains

COMING FROM GERMANY
A13 direction Luxembourg
Exit Nr 12 Mondorf-les-Bains
follow N16 to Mondorf-les-Bains
PARKING
Casino 2000 - route de Remich
Domaine Thermal - avenue des Bains
Stade John Grün - route de Remich
PROGRAM
Friday, May 25, 2018
15h00 - 18h45
Registration, back numbers
Town Hall Mondorf-les-Bains
19h00 - 23h00
Pasta Party & Concert
Casino 2000 Mondorf-les-Bains
19h00
Safety Briefing
Casino 2000 Mondorf-les-Bains
Saturday, May 26, 2018
07h00 - 08h30
Registration, back numbers
Town Hall Mondorf-les-Bains
9h30
Start of the 155 km course
Avenue François Clement - Mondorf-les-Bains
10h00
Start of the 85 km course
Avenue François Clement - Mondorf-les-Bains
12h30 - 17h30
Finish of the riders
Avenue François Clement - Mondorf-les-Bains
15h30
Award ceremonies
place des Villes Jumelées - Mondorf-les-Bains
16h30
After Party
place des Villes Jumelées - Mondorf-les-Bains
GENERAL INFO AND REGULATIONS
The race is open for all the riders of 18 years and more (on the day of the race), form all nations, with or without licence. Minor riders above 17 years can take part on the small distance with a parental authorization. Each participant has to know the complete regulations and respect them under all circumstances.
MORE INFORMATION IN THE FOLLOWING .pdf DOCUMENTS:
COURSE
The riders can choose between two courses, an 85 km loop with 6 climbs and a much more difficult lap of 155 km, including 14 climbs and 2.400 metres of change in altitude.
COURSE 1 (155 km)
| | | |
| --- | --- | --- |
| km + | Place | km - |
| 0 | MONDORF-LES-BAINS (start) | 155 |
| 5 | Burmerange | 150 |
| 8 | Remerschen | 147 |
| 10 | Wintringen | 145 |
| 13 | Elvange (climb 01) | 142 |
| 15 | Ellange-Gare | 140 |
| 18 | Wellenstein | 137 |
| 20 | Bech-Kleinmacher | 135 |
| 21 | Remich | 134 |
| 25 | Stadtbredimus | 130 |
| 33 | Wormeldange (climb 02) | 122 |
| 41 | Oberdonven (FOOD ZONE) | 114 |
| 44 | Buchholz | 111 |
| 48 | Potaschbierg | 107 |
| 50 | Weckergronn (A/B) | 105 |
| 52 | Biwer | 103 |
| 58 | Beidweiler | 97 |
| 60 | Rippig | 90 |
| 62 | Zittig (climb 03) | 93 |
| 66 | Consdorf | 89 |
| 71 | Berdorf | 84 |
| 76 | Beaufort (climb 04) - FOOD ZONE | 79 |
| 82 | Eppeldorf (climb 05) | 73 |
| 86 | Neumühle | 69 |
| 87 | Ermsdorf | 68 |

| | | |
| --- | --- | --- |
| km + | Place | km - |
| 89 | Medernach | 67 |
| 92 | Aechelbour (climb 06) | 63 |
| 94 | Nommern (climb 07) | 61 |
| 99 | Angelsberg | 56 |
| 103 | Fischbach | 52 |
| 106 | Stuppicht (climb 08) | 49 |
| 108 | Altlinster | 47 |
| 110 | Bourglinster (climb 09) | 40 |
| 113 | Gonderange | 42 |
| 117 | Rodenburg | 38 |
| 119 | Olingen | 36 |
| 122 | Betzdorf (climb 10) | 33 |
| 124 | Berg (A=B) | 31 |
| 125 | Banzelt (FOOD ZONE) | 30 |
| 126 | Flaxweiler (climb 11) | 29 |
| 131 | Beyren | 24 |
| 133 | Canach (climb 12) | 22 |
| 138 | Greiveldange (climb 13) | 17 |
| 140 | Stadtbredimus | 15 |
| 144 | Bous | 11 |
| 145 | Erpeldange | 10 |
| 149 | Ellange (climb 14) | 56 |
| 151 | Brehm | 4 |
| 152 | Altwies | 3 |
| 155 | MONDORF-LES-BAINS (Finish) | 0 |


Source: schleckgranfondo.com
COURSE 2 (85 km)
| | | |
| --- | --- | --- |
| km + | Place | km - |
| 0 | MONDORF-LES-BAINS (Start) | 85 |
| 5 | Burmerange | 80 |
| 8 | Remerschen | 77 |
| 10 | Wintringen | 75 |
| 13 | Elvange (climb 01) | 72 |
| 15 | Ellange-Gare | 70 |
| 18 | Wellenstein | 67 |
| 20 | Bech-Kleinmacher | 65 |
| 21 | Remich | 64 |
| 25 | Stadtbredimus | 60 |
| 33 | Wormeldange (climb 02) | 52 |
| 41 | Oberdonven (FOOD ZONE) | 44 |
| 44 | Buchholz | 42 |
| 48 | Potaschbierg | 37 |

| | | |
| --- | --- | --- |
| km + | Place | km - |
| 50 | Weckergronn (A/B) | 35 |
| 54 | Berg (A=B) | 31 |
| 55 | Banzelt (FOOD ZONE) | 30 |
| 56 | Flaxweiler (climb 03) | 29 |
| 131 | Beyren | 24 |
| 63 | Canach (climb 04) | 22 |
| 68 | Greiveldange (climb 05) | 17 |
| 70 | Stadtbredimus | 15 |
| 74 | Bous | 11 |
| 75 | Erpeldange | 10 |
| 79 | Ellange (climb 06) | 56 |
| 81 | Brehm | 4 |
| 82 | Altwies | 3 |
| 85 | MONDORF-LES-BAINS (Finish) | 0 |


Source: schleckgranfondo.com
OVERALL MAP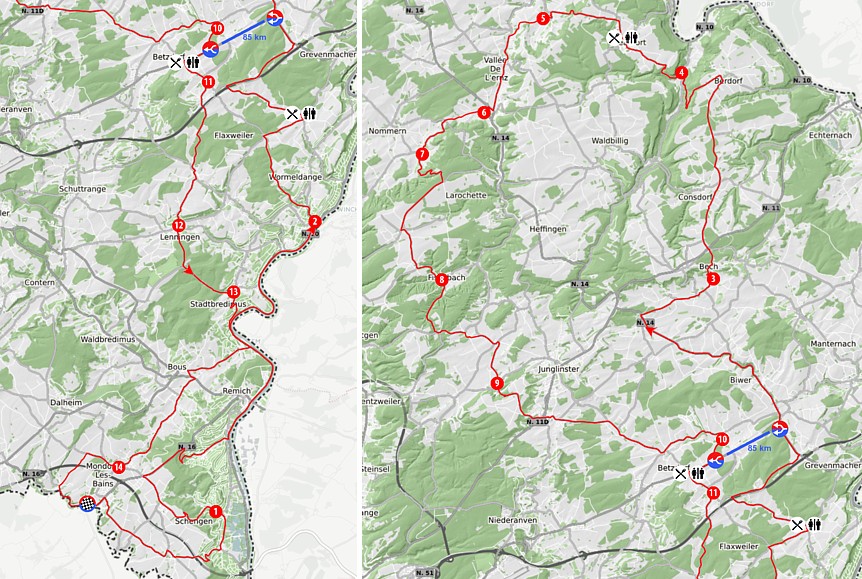 Source: schleckgranfondo.com
More details, information and registration on schleckgranfondo.com