Editor:
ACC CONTERN

The official on-line magazine of the cyclo-sport race "La Charly Gaul"

La Charly Gaul 2010: post-race informations in English

La 21ème Charly Gaul
has taken place on September 5, 2010

updated Results

LA CHARLY GAUL A (160 km)
Scratch classification
Result per category:
B / C / E / F / G / H / I
LA CHARLY GAUL B (95 km)
Scratch classification
Result per category:
Men / Women


Due to technical probles with the time-chips, some errors have unfortunately been detected in the first result lists that were published. With the help of your comments, the lists have been updated by the firm that is responsible for the time-taking. The now published result lists are the corrected versions.
REPORT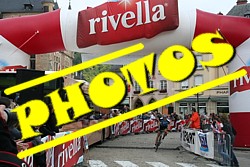 YOUR COMMENTS:
http://forum.helmuts-fahrrad-seiten.de
http://www.team-cycle-basar.de
http://teamdelux-ben.blogspot.com
http://www.gaul.nl



DIPLOMAS
Diplomas in relation to La 20ème Charly Gaul are downloadable via Internet on chronorace.be. To open your diploma, please klick on the small icon

to the right of your name in the result list of category 160 km (here) or category 95 km (here). If you want to have a paper version of the diploma, please let us know (adress at the bottom of the page) and we will send it to you.

La Charly Gaul 2010: pre-race informations in English



Acess, parking
Program
Regulations
Printable summary map
Detailed map on maps.google
The climbs of La 21ème Charly Gaul (web file)
The climbs of La 21ème Charly Gaul (.pdf file)
The official presentation of "La 21ème Charly Gaul" (Septembre 5, 2010) and of the 5th "Gran Fondo Charly Gaul Trento Monte Bondone" (August 8, 2010) was held on Thursday, January 2010 at the sports centrum Coque (2, rue Leon Hengen, Luxembourg-Kirchberg) at 19h30, in presence of the representatives of the tourist office of Trento.
see a report from the presentation


Contact: ACC Contern - c/o M. Eugène Stirn - 19, rue Jules Fischer - L-1522 Luxembourg - Tél: (+352) 49 27 11 - Fax: (+352) 29 77 72 - e-mail: eugstirn@pt.lu

Note: "This site contains links to other Internet pages, on which content and presentation we don't have any influence. These refences are indicated merely for your information and and we can't be made reliable for any of the content of any of the Internet pages our links may take you to."